In Preparation
Windows 10
Anniversary
Update
Explored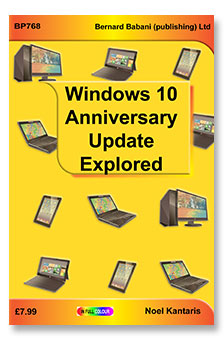 Babani Number: BP768
Author: Noel Kantaris
Price: £7.99
ISBN: 978 0 85934 768 6
96 pages
Published: 18 Jan 2017
After its first year in general use Microsoft's Windows 10 has now had a major make-over known as the 'Anniversary' update. Over this first year Microsoft has received feedback from hundreds of thousands of initial users and has incorporated their comments and suggestions, likes and dislikes into the new Anniversary update so making Windows 10 a better, more usable and friendly product. The 'Anniversary' update is available free to download.

This book is a companion volume to Windows 10 Explained (9780859347570) by Noel Kantaris. It does not cover the same material unless it has been altered considera-bly. It concentrates on exploring and explaining important new or modified features.

Among the many topics covered are:
Installing the upgrade
New Windows menus
What is new in Cortana
Taskbar and System Tray
File Explorer and OneDrive
Edge Browser
And more besides...
Social Networking
with
Facebook and Twitter
for the
Older Generation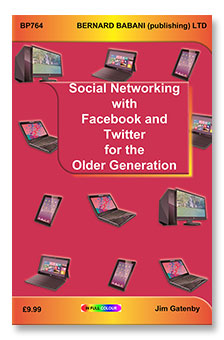 Babani Number: BP764
Author: Jim Gatenby
Price: £9.99
ISBN: 978 0 85934 764 8
192 pages
Published: January 2017
The two most popular Social Networking websites are Facebook and Twitter. They are now easily accessible on desktop, laptop and tablet computers and ,also, smartphones. All you need is one of these devices and an internet or 3G / 4G connection to be able to keep in touch with family and friends wherever they may be in the world.
Written especially for the over 50s, who may have little experience in using a computer, tablet or smartphone. It explains in plain English how to enjoy and benefit from using Facebook and Twitter with confidence and security. The book also applies to all other age groups.
The first part of the book shows you how to get started with Facebook, enabling you to build up a list of Facebook friends. By entering your personal profile you can make friends with other people having a similar background and interests and exchange news and information.
The book then describes Twitter which allows you to quickly post off short, concise text messages called 'Tweets' for your followers to read and respond to. Followers could include your own family and friends. You may also choose to follow the 'Tweets' of well-known people and celebrities or contribute your views to popular causes and debates.
Latest News