In Preparation
Windows 8.1 Explained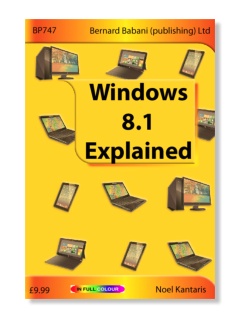 Babani Number: BP747
Author: Noel Kantaris
Price: £9.99
ISBN: 978 0 85934 747 1
192 pages in Full Colour
Published: Dec 2013
This book will help you to understand and explore Microsoft's latest operating system—Windows 8.1, and a good working knowledge of this is essential for you to get the most from your Desktop, laptop or X86 Tablet.
This book applies to Windows 8.1, Windows 8.1 Pro and the vast majority of Windows 8.1 Enterprise. Also, parts of the book should be applicable to Windows RT 8.1 which is built on the same foundation as Windows 8.1 but is a restricted version designed specifically for ARM Tablets.

Among the many topics explained in plain English and avoiding technical wherever possible are:
An overview of the Windows 8.1 environment, including the Modern interface with the new Start button, Desktop, Taskbar, running Apps, Tray Notification Area and Charms bar.
Managing Windows settings, User Accounts, Personalisation, controlling your system and working with programs.
Using Desktop File Explorer, Internet Explorer and the e-mail App.
Using SkyDrive and shared folders.
Importing from your camera, working with and organising digital photographs.
Using Bing maps to find locations, services, driving directions and help with public transport.
Managing the News, Finance and Weather Apps.
Using Windows Media Player and installing and using Media Center.
Connecting to a wireless network, setting up a HomeGroup, sharing a printer.
Using mobility tools to keep your Laptop / Tablet running while away from home.
Keeping your computer healthy, backing up and using Accessibility features if you have eyesight or dexterity problems.
Using the new Paint and WordPad Apps.
And more besides...
Kindle Fire HDX Explained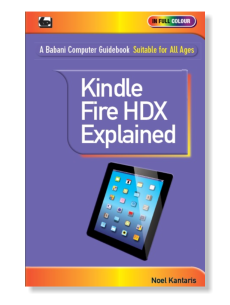 Babani Number: BP743
Author: Noel Kantaris
Price: £9.99
ISBN: 978 0 85934 743 3
192 pages in Full Colour
Published: Dec 2013
This book will guide you through the configuration and use of each of the new Kindle Fire HDX facilities. It explains the Kindle Fire HDX's capabilities in an easy to understand way so that you can quickly get the maximum use and enjoyment from your tablet.

Although this book was written using the new Kindle Fire 7" HDX most of the contents is applicable to the 8.9" HDX and, also, to both sizes of Kindle Fire HD and the Kindle Fire with LCD screen. This book is a 'must' for anyone with a new Kindle Fire or is thinking about buying one. Among the many topics covered are:
Connecting to a WiFi Network and registering with Amazon.
Searching for books, music and other content and setting up and using a 1-click Amazon account.
Using Carousel, Starter screen, Favourites, Web and device settings.
Connecting to a server, sending and receiving e-mails, attachments, deleting and printing messages.
Using Silk internet browser and installing alternative browsers that are compatible with Adobe Flash.
Storing purchased items in the 'Cloud', on your Fire HDX or on an external device.
Side-loading non–Amazon Apps and sharing files with a PC or Smart phone.
Obtaining instant technical help with Mayday
Using the Office Pro Suite to view documents and how to upgrade to OfficeSuite Pro7 to allow the creation of Word documents, Spreadsheets and Presentations.
And so much more …