In Preparation
Windows 10 for the
Older Generation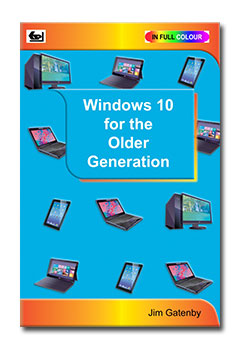 Babani Number: BP758
Author: Jim Gatenby
Price: £9.99
ISBN: 978 0 85934 758 7
192 pages
Published: January 2016
Windows 10 is the latest version of Microsoft's operating system. It will be available as a FREE upgrade to Windows 7, Windows 8 and Windows 8.1 machines as well as being installed on new computers. To get the most from your computer you need to have a good understanding of it's operating system.

This book has been written for the Older Generation who may be new to computing and need a book that is easy to understand, written in plain English and is not at all intimidating. It also applies, of course, to all other age groups.

This book will help you to upgrade, install and set up Windows 10 for your personal preference. It also covers the practical use of this operating system with it's new Start menu, icons and features such as Cortana personal assistant, new web browser, Con-tinuum for touch screen control etc.

This book will easily and quickly get you started with Windows 10 whether you have just purchased a new Windows 10 computer or are upgrading an existing machine.