In Preparation
Social Networking Using a Tablet
For All Ages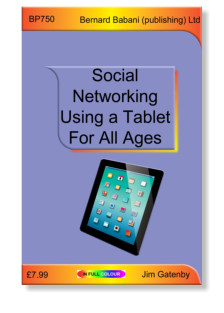 Babani Number: BP750
Author: Jim Gatenby
Price: £7.99
ISBN: 978 0 85934 750 1
128 pages
Published: Apr 2014
Social Networking is no longer the province of only young people. In fact it is now one of the most popular uses for a tablet computer. This book covers both Facebook and Twitter on tablets using the Android, iPad or Windows operating systems.
The book assumes no prior knowledge of Social Networking and deals in detail with getting your tablet online, downloading appropriate Applications and establishing accounts with Facebook and Twitter.

Among the many topics covered are:
How to use the Facebook website to interact with like minded people by sharing your latest news, photos and videos.
How to control who can view your Facebook page by using the privacy settings.
How to use the Twitter website to follow people who interest you and also share their 'Tweets' (short online massages).
How to take part in online debates and post your own 'Tweets'.
And much more besides…
This book is written for readers of all ages who may have little experience in using a tablet computer. It uses plain English and avoids technical jargon wherever possible.
Android Tablets Explained
For All Ages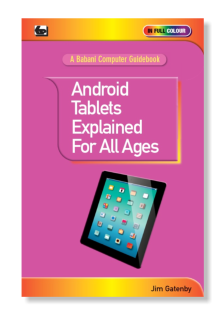 Babani Number: BP749
Author: Jim Gatenby
Price: £7.99
ISBN: 978 0 85934 749 5
128 pages
Published: Mar 2014
Researchers have predicted that in 2014 50% of all personal computers sold will be tablets and of those 65% will be Android (185 million units). Tablets can now do nearly everything that can be done on a laptop or desktop PC so for many people a tablet will fulfil all their computing requirements!
Basically, all tablets using the Android operating system function and are used in a similar manner. However, different manufacturers / retailers may add 'tweaks' to the operating system to promote their own brand and/or the sale of 'Apps' from their own applications store.
This book explains in the simplest way, using plain English and avoiding technical jargon wherever possible, everything you will need to know to set up and start using your Android tablet productively.
Suitable for all ages, particularly the 'Older Generation' who may have little or no knowledge of using any type of computer.
Applicable to most models of Android tablets including the Hudl, Galaxy, Nexus, Kindle Fire, etc.