In Preparation
An Introduction to the Nexus 9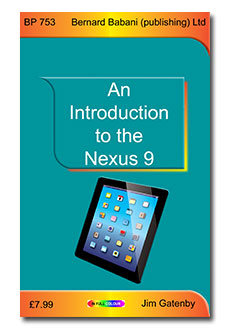 Babani Number: BP753
Author: Jim Gatenby
Price: £7.99
ISBN: 978 0 85934 753 2
128 pages
Published:15th December 2014
Main features of the Nexus 9 including 8.9" HD screen, 64-bit dual core processor and Android 5 (Lollipop) operating system are described.
Setting up the Nexus 9 , charging the battery, connecting to the Internet and signing up for a Gmail account.
Touch screen operation and navigation.
Finding and installing Apps from Google Play Store.
Security settings to keep your Nexus 9 and your files safe.
Enjoying entertainment such as eBooks, games, music and video.
Searching the Internet for all types of information.
Using eMail and Skype to communicate with family and friends all over the world.
Transferring photos from a smart phone to Nexus 9 using Bluetooth.
And much more besides...