In Preparation
An Introduction to the Hudl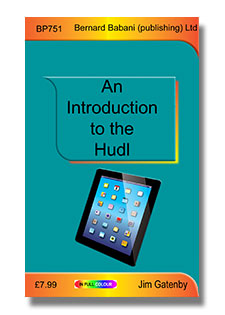 Babani Number: BP751
Author: Jim Gatenby
Price: £7.99
ISBN: 978 0 85934 751 8
128 pages
Published: Aug 2014
Tesco's Hudl is an amazing first entry into the tablet market. It offers incredible value and superb performance and is probably destined to be the first in a family of tablet computers from Tesco.
Written in plain English and avoiding technical jargon wherever possible, this book will guide you through an overview, setting up and operating your Hudl tablet computer for the first time. Practical and useful applications of the Hudl are then discussed in detail.
Among the many topics covered are:-
Overview: General discussion about tablets, their relationship to other types of computer, the Android Operating system and the concept of Apps.
Getting Set Up: Using Hudl controls, battery charging, connecting to a router, Gmail accounts, adding extra memory and optional accessories such as keyboard, docking station, flash drive, etc.
Starting to Use the Hudl: Touch screen gestures, Home screen, Favourites Tray, Settings menu, etc.
The Play Store: Searching for, installing, organising and deleting free and paid for Apps.
Using the Internet: Chrome Web Browser; The Address Bar; Revisiting Web sites; searching with Google.
Entertainment: EBooks; Google Books; Kindle; Downloading and streaming music and video; YouTube; Live and catch-up TV and Radio; Games.
Communication: E-mail; Skype; Social Networking, Facebook and Twitter.
Office Apps: Office software apps; Google Docs; wordprocessing, spreadsheets; Voice recognition; File manager app; Setting up a printer; Cloud storage; Synchronising docs with Google Drive; DropBox.
Photos and Videos: Transferring photos from camera or SD card; editing and sharing photos.