In Preparation
Android Tablets & Smartphones for All Ages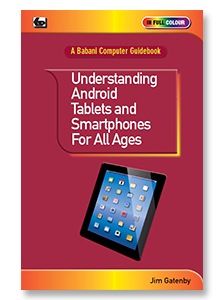 Babani Number: BP763
Author: Jim Gatenby
Price: £9.99
ISBN: 978 0 85934 763 1
192 pages
Published: April 2016
This book is especially written for new users of Android tablets and smartphones. It uses plain English and avoids technical jargon wherever possible. All versions of Android generally function in the same way, but where there are differences these are explained in the text.
Among the many topics covered are:
An overview of the Android family.
Setting up, connecting to the Internet and signing up for Gmail.
Use of the touch screen and on-screen keyboard and navigating around various screens.
Changing the screen colours.
Installing and managing Google Play Store apps and preventing unwanted In-app purchases.
Enjoying entertainment, such as eBooks, music and videos.
Web browsing and searching for information.
Using e-mail, Skype, WhatsApp and Social Networking.
Taking and sharing photos.
Using Google Drive to save your files in the "clouds ".
Using Google Docs, Word and Excel for word processing and spreadsheets.
Printing using ePrint and Google Cloud Print, etc.
Security measures.
Importing and exporting files and connecting external devices.
And more besides…

This book will help you to easily acquire the basic skills needed to understand and make the most of an Android tablet or smartphone.
eBay for Everyone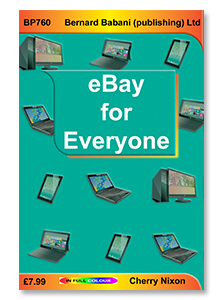 Babani Number: BP760
Author: C. Nixon
Price: £7.99
ISBN: 978 0 85934 760 0
128 pages
Published: May 2016
eBay is an online auction site that enables you to buy and sell practically anything from the comfort of your own home. eBay offers easy access to the global market at an amazingly low cost and will enable you to turn your clutter into cash!
This book is an introduction to eBay and has been specifically written for those who have little knowledge of computing. The book contains ideas for getting organised for long term safe and successful trading. You will learn how to search and buy every conceivable type of thing. How to create auctions and add perfect pictures and how to avoid the pitfalls that can befall the inexperienced. The use of eBay Apps for mobile devices such as tablets and smart phones is also included.
eBay has undergone considerable change recently, probably the greatest since its inception, so many people may now be in need of some guidance. Cherry Nixon is probably the most experienced teacher of eBay trading in the UK and from her vast experience has developed a particular understanding of issues and difficulties often encountered by individuals
Latest News