In Preparation
Basic Computing for the Older Generation
Windows 8 and RT Edition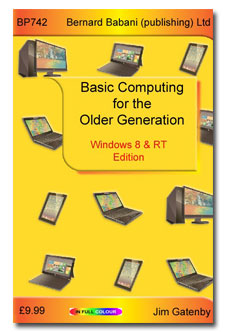 Babani Number: BP742
Author: Jim Gatenby
Price: £9.99
ISBN: 978 0 85934 742 6
128 pages in Full Colour
Published: April 2013
A completely revised edition of our highly successful book 'Basic Computing for the Older Generation' (978-0-85934-731-0) which covers Windows 7, Vista and XP machines, and, is of course, still in print. This new book covers Tablet, Laptop and Desktop computers which use the latest operating systems from Microsoft: Windows 8, Windows 8 Pro and Windows RT.

In this edition more emphasis is given to Tablet and Laptop machines as these are becoming increasingly more popular as prices fall and specifications increase, but, of course, the use of Desktop PCs is covered as well.

Details of controlling your computer using the new touch screen method is covered as well as by using the more conventional Mouse.
This book covers everything a beginner is likely to need to know to start using and under-standing their computer effectively. It is written in plain English and avoids technical jargon whenever possible.
Microsoft Office 2013 Explained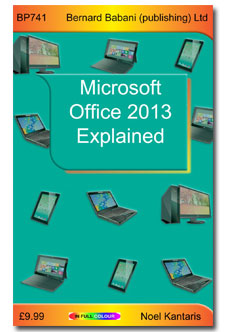 Babani Number: BP741
Author: Noel Kantaris
Price: £9.99
ISBN: 978 0 85934 741 9
256 pages in Full Colour
Available August 2013
This book is based on the Home and Business edition of Microsoft's new Office 2013 soft-ware suite for X86 Tablet, Laptop and Desktop computers. The book covers Word, Excel, PowerPoint, OneNote and Outlook applications, and it will also apply to these applications in other editions of Office 2013. Parts of the book should also be applicable to Office 2013 RT, a reduced version supplied with Windows 8 RT, and designed for ARM Tablets such as Microsoft's own 'Surface' Tablet and those of other manufacturers.
The book commences with a package overview that includes the installation of the soft-ware , exploration of the applications common features and control of the software by both 'Touch Screen' and use of the 'Mouse'.
Each application within the 'Home and Business' edition of Office 2013 is introduced , with sufficient detail to get you working. No prior knowledge of these applications is assumed.
By providing clear explanations and encouraging you to participate in hands-on examples this book should enable you to get to grips with Office 2013 quickly and easily.
An indispensable companion to anyone using Office 2013 foe that first time or who has used a previous edition of Microsoft's Office.