In Preparation
An Introduction to Android 5 Lollipop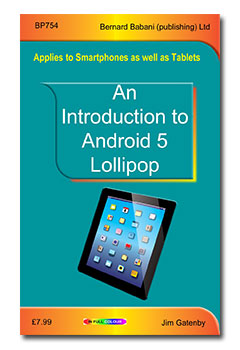 Babani Number: BP754
Author: Jim Gatenby
Price: £7.99
ISBN: 978 0 85934 754 9
128 pages
Published:15th April 2015
Android 5 Lollipop is the latest version of Google's operating system. The Android operating system for tablets and smartphones is used on more devices than any other operating system. Android 5 Lollipop is, or will soon be, available as a free upgrade for devices made by many well-known tablet and smartphone manufacturers including Samsung,Sony, Asus, LG and HTC, etc.
This book applies to smartphones and tablets running Android 5 Lollipop. Written in plain English, avoiding technical jargon wherever possible, this book presents it's information in a clear and easy to understand way. It covers the topics most people will need to get the best from their smartphone or tablet running Android 5 Lollipop.
Among the many topics covered are:
New software features of Android 5 Lollipop and how to upgrade an existing device.
The main hardware features of a typical Android 5 Lollipop device.
Setting up a new device, including user and e-mail accounts and connecting to the Internet.
Using touchscreen gestures and navigating the various screens.
Installing new apps from the Play Store and organising existing apps.
Entertainment including eBooks, music, video and catch up television.
Searching the Web using Google Search and Google Voice Search.
Using Google Maps and using an Android device as a sat nav.
Communication by e-mail, Skype and Social Networking (Facebook and Twitter).
Using the built-in cameras, importing photos from other sources such as SD cards and flash drives.
Managing files on an Android 5 Lollipop device using a laptop or desktop computer.
Using Cloud storage systems such as Dropbox and Google Drive.
Using the Google Docs in Google Drive for word processing and spreadsheets, etc.
Printing from an Android device to any printer using Google Cloud Print...